Based on feedback and questions from attendees for previous Open Studio Tours, we have put together a list of questions and answers below. If you have a question, please check out the list below. If you don't see an answer here, contact us. We may add it to the list below!
Please read the FAQ before continuing to the application, which you can find at the bottom of the page.
Who can apply?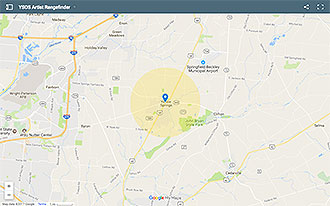 Artists with a studio within a 3½ mile radius of the Yellow Springs Station may apply. Click here to check radius.
All displayed work must be original in design and produced by the artist applying.
No dealers or agents.
Group studios may apply, but each artist needs to apply individually.
Guest artists must also send in an application (see question below – Can I have guest artists?).
All exhibitors must be current members of the Yellow Springs Arts Council on the dates of the event.
What do I need to know before applying?
When you apply, be sure to upload three HIGH-RESOLUTION images of your chosen medium, and an image of your studio.

Images must be in JPEG format and fall within the ranges of 200-300 dpi; 500kb-1.5 MB file size; or 1500 x 1500-2500 x 2500 pixel dimensions.
Each image must be identified with artist's surname and by number i.e. , smith1.jpg or smith-1.jpg
The images must be in landscape orientation.

Images must be included in your application and submitted by the deadline of July 1, 2019, or you will not be in the show.

 

If you need someone to take photos, let us know, we can suggest a photographer who will take them for a reasonable fee.
You will receive a confirmation email from no-reply@wufoo.com with your application information included.
I am part of a group studio, can I apply?
Yes. The group studio must be within the 3½ mile radius.
Each artist in the group needs to apply individually, pay for the listing fee, and be a member of Arts Council.
How much does it cost?
There is a $50.00 fee and you must be a current member of the Yellow Springs Arts Council (YSAC).
Individual annual membership in YSAC is $30.00. Click here for more info about membership levels and benefits.
Financial assistance is available if needed to be able to participate. Contact us for more information.
The fee covers:
Listing on the map
Online presence all year long on the Event Web Site
Individual web page
Archived show data base for repeat customer usage
Listing in the printed brochure
Benefits of extensive Open Studios advertising
Benefits of becoming a YSAC member:
Opportunities for shows at our two galleries
Email blasts with art events and art opportunities
Advertise your own art events on the YSAC email blasts
Members Show in February
YS Open Studios
Link to your web site
Listing in the The Artists Directory
Rental discounts on YSAC Multi Purpose Space
How do I submit my payment?
Once you hit "submit" on the application, you will be redirected to Paypal to pay. You do not have to have a Paypal account, and may use your credit or debit card.
Is there a commission on work sold during the event?
No. In addition, your work does not have to be for sale. It's your choice. If you sell artwork, you are responsible for your own sales.
Are my fees refundable?
Sorry, no they aren't. The guide listing fee goes towards advertising Open Studios and supporting Arts Council events.
You will have the benefits of being an Arts Council member for a year.
What is my time commitment?
This is a two-day event: Saturday October 19th and Sunday October 20nd, 11 a.m.-5 p.m. Rain or shine.
What if it rains?
The event will still be held. There is no rain date.
Can I have guest artists?
Yes. You must indicate that you wish to have a guest artist and their name(s) in your application. The guest artist(s) must also fill out a separate application stating that they are a guest artist at your studio.
They must pay the fee and also become a YSAC member if they are not a member as of event date.
Can I be listed under more than one medium?
You can show a variety of mediums at your studio, but must pick your main medium for all advertising, listings and print.
In the description of your work, which is taken from your application and used on your Open Studio web page, you can list all mediums.
When will I know if I'm accepted?
Expect your notification within a week or two after the deadline of July 1, 2019.
What do I need to do before the event?
The success of your Open Studio comes from the advertising we provide and from you reaching out to your friends, family, and customers. We cannot stress enough that the advertising you do to people who know your work is going to bring in more people to your studio than any amount of advertising we do to the general public.
If you are going out of town or to another art show please pick up YS Open Studio Rack Cards from the Train Station or YSAC Gallery to give out or leave places. This is mostly a volunteer-run event, so anything you can do to help spread the word will be greatly appreciated.
A sign designating your studio as being on the tour and some guides will be delivered to your home or studio. An email will go out beforehand telling you when to expect them. If you are not home, they will be left on your doorstep.

We will pick it up from you after the event. Please leave it up in front of your house.
There is no fee for the sign.
10-15 printed guides will be delivered to you to have on hand on the days of the event.
Post one map in your studio.

Buy yellow balloons and have them filled the day before the event

You are responsible for placing yellow balloons outside your studio on Saturday and Sunday of the event.
Mylar tends to stay up longer and withstand more weather conditions.
We suggest you update your own personal/business websites, blogs, and social media accounts.
Price your work if you plan to sell your work.
Remember to collect 6.75 % sales tax for Greene County.
Let your neighbors know what's happening and invite them over.
What do I need to do or supply on the day of the event?
We suggest you have business cards, a cash box, change, and a receipt book with at least two carbons (one for your customers, one for your records).
Consider accepting checks and credit cards.
A helping hand from a friend or family member to ring up sales while you talk with visitors is very helpful.
You are responsible for placing yellow balloons and YS Open Studios signs outside of your studio.
Consider providing finger food and something small to drink. Food and drink can relax visitors and make them feel welcomed and appreciated.
Consider doing a demo during the event or showing works in progress. Showcase some of your important tools. Allow visitors to see what actually goes into making your beautiful work. We know that there might not be time during the event to talk to everyone and demo. But it is important to illustrate your process. Show your tools, have work in progress, or photos of work in progress. A slide show of you working would be great. The guests coming to this event want to learn about how you create your art.
Be familiar with other studios in the show and encourage visitors to check them out. Help with directions if you are able.
Please be sure to be friendly and welcoming to guests. If there is an area you'd like visitors to see and it isn't immediately obvious that they are welcome, be sure to invite them to look. Ask them if they have questions or would like to see any items/processes that are not readily visible. This will help to engage guests and may help you get more traffic and sales (if you're selling your art).
Please be sure to read and follow all application instructions completely. If you have any questions or concerns, feel free to contact us BEFORE submitting your application.