YS OPEN STUDIOS IS CANCELLED FOR 2021
If you visited Open Studios before 2019, and are looking for an artist name or contact, check out our Past Shows.
Yes it's true, Yellow Springs IS a creative town, overflowing with wonderful artists. This is your opportunity to meet some of them! Plan your studio visits through our vibrant village and colorful countryside discovering where the artists work and how they create! Some of the artists will offer demos, others will have tools and work in progress to see.
You'll also want to schedule time to visit over 60 downtown shops, galleries, and eateries. With so much to do, why not spend the weekend in Yellow Springs?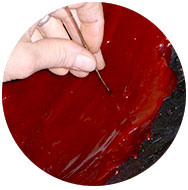 2019 Artist Listings
Yellow Springs Open Studios is your chance to see the work of local and guest artists – all at no charge. Many media categories will be represented during the event.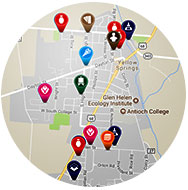 Map of 2019 Studios
Use this interactive map on your mobile device or computer to find participating studios in the Yellow Springs area and plan your visit. Some are within walking distance of downtown, but some will require driving. Look for the yellow balloons!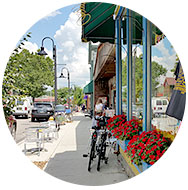 2019 Sponsors
Be sure to visit our Yellow Springs Open Studios sponsors for great food and shopping while you're in town. We appreciate their help in promoting culture and creativity in our Village!